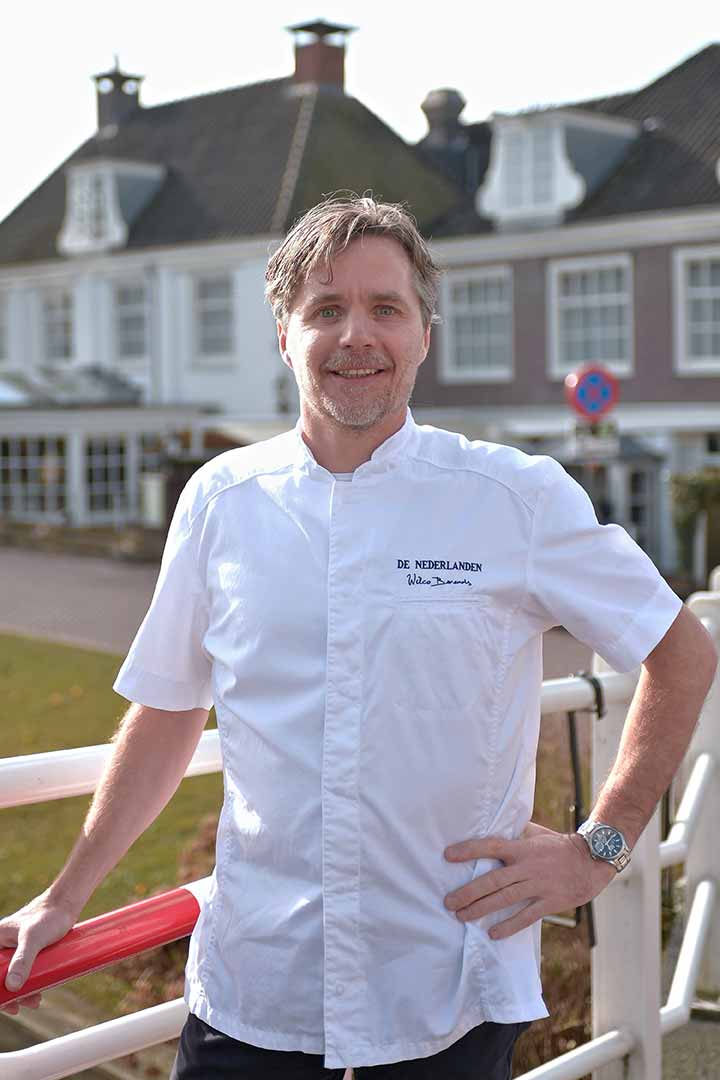 Wilco Berends
Cooking at Michelin-star level can be compared to performing as a professional athlete and Wilco Berends knows that very well, as he has been awarded with the Michelin star every year since 2000. In his restaurant De Nederlanden (*) all disciplines come together perfectly. The honest ingredients, their preparation and cuisson, the defining sauces, the exciting plating and of course the casual chat at the table. In this way, he provides a unique experience where everyone feels at home.
Wilco's youth
Wilco was born on April 16, 1972, in Barsingerhorn, in the province of Noord-Holland. His mother brought authentic Dutch food to the table every evening, using the season's ingredients. His culinary upbringing can still be seen in his current cooking style; using honest, local ingredients to create tasteful combinations. He also gets his ingredients from Noord-Holland grocers and suppliers whenever possible. Thanks to these beautiful ingredients, Wilco can let his creativity run free and create new and surprising flavour combinations that also excite the eye.
The first professional culinary steps
As soon as Wilco knew he was cut out for the culinary world, he also decided to cook at the highest level possible. That is why he chose to take on ambitious internships and learning trajectories, such as at Merlet (*), de Hoefslag (*), Scholteshof (**) and L'escargot (*) in London, of Marco Pierre White fame, Gordon Ramsay's mentor. Thanks to these experiences and his many journeys, Wilco has developed into a creative chef with many global influences.
Wilco puts De Nederlanden on the map
Wilco joined De Nederlanden (*) in 2006, at that time still in paid employment. When he was given the opportunity to become the sole owner of the restaurant in 2012, he did not hesitate for a moment. This made it possible to further develop his culinary creativity and to make the guests feel welcome in the way he intended: in a warm way with great attention to every guest. It is also important for Wilco to fully embrace his Noord-Holland background and to make use of regional and seasonal products. Although the ingredients are locally sourced, the flavour combinations can seem very worldly.
Wilco's signature dishes
As befits a real Michelin-star chef and Patron Cuisinier, Wilco has some sophisticated signature dishes on the menu. For example the oyster tasting, for which he himself selects the best oysters. The beautiful North Sea crab is also prepared in a unique and balanced way so all flavours and aromas come out perfectly. In addition, Wilco likes to let his craft speak for itself with his three preparations of Norway lobster. To conclude the menu, the soufflé is a wonderful choice because Wilco serves it himself and explains his cooking method with passion.
De Nederlanden as an overall experience
In addition to the culinary experience, De Nederlanden also has 11 beautifully decorated hotel rooms and suites, transforming a night out to a weekend away. The hotel rooms are affiliated with Romantic Hotels, partly thanks to the stylish design of the rooms and the location of the hotel in lush Vreeland. Wilco's wife Caroline has taken care of the design of the rooms and acts as a hostess within De Nederlanden.
This is how they manage to create a unique experience together in beautiful Vreeland.